2020-21 School of Excellence winner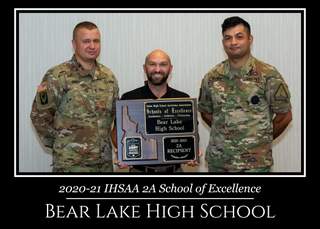 Bear Lake received the top award the IHSAA can give out Monday, as the school was named the 2020-21 School of Excellence winner in 2A.
According to an IHSAA press release, schools "earn points based on their student-athletes' performance in athletics, academics and sportsmanship."
Academic, athletic and sportsmanship components are equally weighted to determine the awards, with academics based on team GPAs and athletics by performance at state tournaments.
According to the press release, "The Citizenship Component is based on a school's self-evaluation of their citizenship/sportsmanship activities as submitted on an itemized form. Deductions are made by the IHSAA for player and/or coach unsportsmanlike ejections and also for unsportsmanlike school behavior at state tournaments."
CHRISTMAS BREAK: 12/21 1PM RELEASE THROUGH 1/22
At Bear Lake High School our mission is to educate, prepare, and inspire all students to achieve their full potential as lifelong learners, thinkers, and productive contributors to our global society.
NUTRITION & LUNCH (subject to change)
NUTRITION
1/04 Muffin
1/05 Ultra Slice Bread
1/06 Breakfast Sandwich
1/10 Mini Cinni
1/11 Breakfast Bar
1/12 Breakfast Pizza
1/13 Tornado
1/17 Benefit Bar
1/18 Ultra Slice
1/19 Morning Round
1/20 Mozz Bread Stick
1/24 Powdered Round
1/25 Cereal
1/26 Breakfast Bar
1/27 Breakfast On A Stick
1/31Benefit Bar
LUNCH:
1/04 Chicken Patty or Pizza
1/05 Ham & Scalloped Potatoes or Pizza
1/06 Pulled Pork or Pizza Ripper
1/10 Ham Sandwich or Mini Calzone
1/11 Bread Sticks or Pizza Ripper
1/12 Crispy Chicken Filet or Pizza
1/13 Baked Potato or Pizza Ripper
1/17 Tacos or Mini Calzone
1/18 Glazed Drumstick or Pizza Ripper
1/19 Chicken, Bacon Wrap or Pizza
1/20 Chili or Pizza Ripper
1/24 Chicken Strips or Mini Calzone
1/25 Sloppy Joe or Pizza Ripper
1/26 Chicken Nuggets or Pizza
1/27 Beef Roast or Pizza Ripper
1/31 Orange Chicken or Mini Calzone
USDA Nondiscrimination Statement https://docs.google.com/document/d/15Kw55W3DltTps63QssFGqq7M0r7f4PEYqDKs12sqqQk/edit?usp=sharing
Check out the selection of new audiobooks in the library.
Sorry, but there was nothing found. Please try different filters.